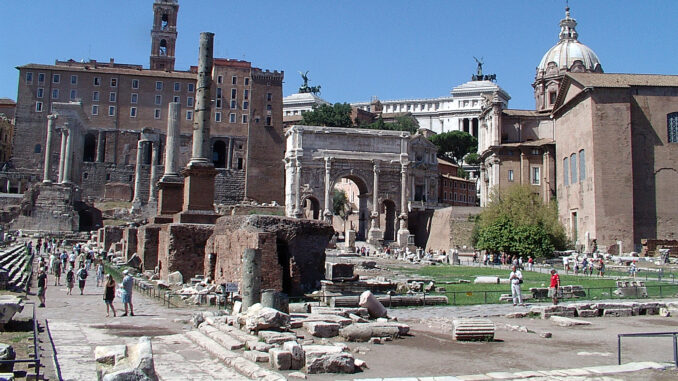 ROME, Italy — From aqueducts to roads, the Roman influence on the world can still be felt to this day. And, for visitors tight on time, the key to visiting The Eternal City is to hit the major sites.
Rome wasn't built in a day, but you can see it in one.
There are countless plazas and fountains that warrant a stop. Notable sites worth seeing are the Colosseum, the Pantheon, the Spanish Steps, Fontana di Trevi (Trevi Fountain) and Piazza del Campidoglio. Rome is also home to the Vatican City, but that deserves its own examination.
The Colosseum is one of the world's most recognizable landmarks. This incredible building has lasted generations and is the best and most widely-known symbol of Rome's past. The Colosseum could hold 50,000 people, had a retractable roof and could be emptied in a matter of minutes.
At times, the Romans filled the stadium with water to reenact sea battles for war-loving crowds. However, it is perhaps best remembered for the gladiator fights that once took place there. The Colosseum was used continuously for 145 years until it was damaged in a fire in 217. By comparison, Boston's Fenway Park has only been in use for about a century.
Today, the Colosseum is situated in the middle of modern-day life. Busy roads filled with cars, buses and motorcycles run adjacent to this more than 1,900-year-old marvel. Yet, the building doesn't seem out of place, the cars do.
Located at the top of Capitoline Hill near the Roman Ruins, the Piazza del Campidoglio is an Italian square at its finest. The Piazza, designed by Michelangelo, the original Renaissance man, is a great place for the weary traveler to take a respite and lose oneself in the moment.
Started in 27 BC, the Pantheon, built as a temple to the ancient Roman gods, is considered by many to be the glory of Rome. The building has it all — from columns to marble to monuments. Without a doubt, it is a testament to Rome's grandeur and illustrious past.
Before stopping at Fontana di Trevi, make sure to have some spare change. Because, according to legend, anyone who throws a coin over his or her shoulder and into the fountain will soon return.
As the day comes to a close, the Spanish Steps — the Scalinata di Piazza di Spagna in Italian — are the perfect place to cap off a visit to The Eternal City. As night falls, it's the kind of moment you wish could last forever, taking in the sights of this famed city and marveling on the fact that so many historical places are located within walking distance of one another and that without Rome — and the Roman Empire — life today would be drastically different.