GREENVILLE, S.C. — When it comes to putting together a team of the greatest players ever to take the baseball diamond, it would be hard to overlook "Shoeless" Joe Jackson.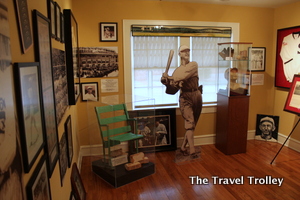 Consider his numbers for a moment. A career .356 hitter, in his 1911 rookie season, he batted .408, a mark that is not likely to be topped anytime soon – or ever, for that matter.
Of course, when it comes to a conversation about Shoeless Joe, most people mention the 1919 Black Sox Scandal. For better or worse, Jackson's career is inextricably linked to the 1919 World Series when the Cincinnati Reds defeated the Chicago White Sox.
Out of the series, eight White Sox players, including Jackson, were banned forever as part of the infamous Black Sox Scandal, in which players were accused of throwing the World Series against the Cincinnati Reds at the behest of gamblers.
Whether Jackson participated in the scheme has been a point of contention for more than 90 years. Until he died in 1951, Jackson denied taking part in the scandal.
"Regardless of what anybody says, I was innocent of any wrong-doing. I gave baseball all I had," The Sporting News quoted Jackson as saying in 1942. "The Supreme Being is the only one to whom I've got to answer. If I had been out there booting balls and looking foolish at bat against the Reds, there might have been some grounds for suspicion. I think my record in the 1919 World Series will stand up against that of any other man in that Series or any other World Series in all history."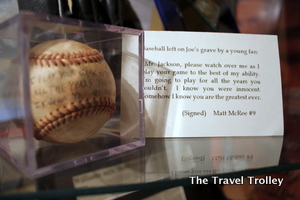 Jackson's .356 career batting average ranks third all time behind Ty Cobb (.366) and Rogers Hornsby (.359).
Today, Jackson's former house, where he lived at the time of his death in 1951, has been transformed into a museum. Dedicated to preserving Jackson's story, the Shoeless Joe Jackson Museum and Baseball Library offers an intriguing glimpse into the life of a should-be Hall of Famer.
And, here there is little doubt: Joe Jackson should be in Cooperstown.
The house was moved to its current location at 356 Field Street in 2006 and sits across the street from Fluor Field, the home of the Greenville Drive, the Class A affiliate of the Boston Red Sox. Artifacts on display include photographs and an original seat and bricks from Old Comiskey Park, where Jackson played ball.
For anyone interested, Jackson is buried at Woodlawn Memorial Park in Greenville.