FORT WORTH, Texas — A cowboy on horseback trotted into the middle of the street, then let out a holler.
With that, a herd of longhorns poured into the street. Amidst the yells of "come on cows," the longhorns plodded their way down the street toward their pens at the other end.
If not for the modern vehicles and camera wielding tourists lining the street, it might as well have been 1880. It was just another day in modern Fort Worth.
Fort Worth is often considered "where the West begins." And, nowhere is that more apparent than at the Fort Worth Stockyards, once the epicenter of the cattle industry.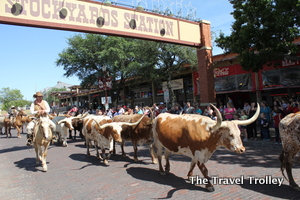 Today, the historic stockyards, while still in active use for cattle sales, attract thousands of tourists looking to climb atop a longhorn for a photo op, watch the twice-daily cattle drives or catch a glimpse of the unabated wild west.
Located a few miles from the city's modern business district, the Fort Worth Union Stockyards first opened for business on Jan. 19, 1890. Less than two decades earlier, the coming of the railroad made the area an important center for livestock.
The Livestock Exchange Building, the center of Fort Worth's cattle industry, was known as the "Wall Street of the West." But, in addition to cattle, sheep and hogs also passed through the Stockyards.
To support the growing industry, buildings popped up throughout the district. A Coliseum was built in a mere 88 days and was home to the first indoor rodeo, while the historic Fort Worth Stockyards Hotel also opened in 1907 and counts Clyde Barrow and Bonnie Parker among its guests.
But, by the 1950s, the area's importance to the industry began to decline as auctions could readily be held closer to where the livestock were raised. But, in 1976, nearly four dozen buildings were added to the National Register of Historic Places and the Fort Worth Stockyards Historic District was born.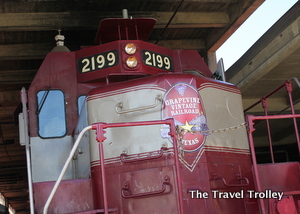 Under the historic district, many of the famous buildings were restored to their grandeur. Today, the Stockyards are one of the area's most popular tourists attractions.
The Stockyards are home to a number of museums, including the Texas Cowboy Hall of Fame, the Texas Rodeo Cowboy Hall of Fame and the Stockyards Museum. But, one of the real treats of the stockyards is the Grapevine Vintage Railroad.
The heritage railroad runs excursion trains along the Trinity River on tracks formerly owned by the St. Louis Southwestern Railway (better known to many as the Cotton Belt) that offer nice views of Fort Worth's skyline.