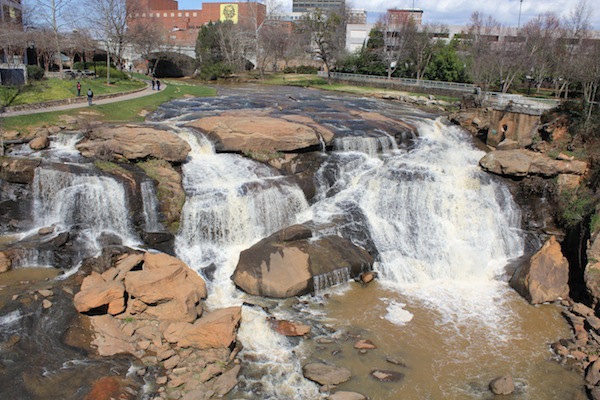 GREENVILLE, S.C. — Since before Greenville was even a city, what is today known as Falls Park was a natural draw.
In the early 1770s, Richard Pearis purchased land here in what was then park of the Cherokee Indian nation and built a home ("Great Plains Plantation"), a trading post and a grist mill on the banks of the Reedy River. The area quickly grew up, and in 1797, the Greenville Court House was laid out.
During the Revolutionary War, Pearis remained loyal to the Britih and Patriots burned his plantation along with the grist mill and trading post he established. In the aftermath, he took off to the Bahamas, never to return to Greenville, but nearby Paris Mountain was named in his honor.
Over the years, a number of textile mills were built on the banks of the Reedy River in downton Greenville, and while the falls were instrumental in helping Greenville grow, by the mid-20th century, the river was polluted. Then, in 1960, the Camperdown Bridge was built across the falls, obstructing the public's view.
Seven years later, in 1967, the Carolina Foothills Garden Club reclaimed 26 acres of land previously occupied by textile mills. But the turning point came in 1999, when landscape architect Andre Mains designed a plan to encompass 20 acres of gardens with the Reedy River Falls as the focal point. In the process, the Camperdown Bridge would be razed.
Following a two-year-long project, on Sept. 10, 2004, the city dedicated the $13.4 million gardens at Falls Park.
The highlight of the plan would be a 355-foot-long, 12-foot-wide suspension bridge named the Liberty Bridge. Designed by world renowned architect Miguel Rosales, the curved bridge gives pedestrians unparalleled views of the upper falls and the gardens below.
"Falls Park and the beautiful Reedy River Falls have regained their rightful place of prominence in our city," then-Mayor White said at the dedication ceremony, according to a 2004 news release.
The Liberty Bridge has won a number of awards, including the 2006 Outstanding Civil Engineering Achievement Merit Award from the American Society of Civil Engineers.